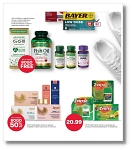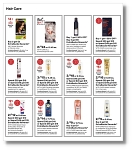 click an image to view full size or view all
download pdf

jump to comments section
= as low as free | = $1 or less





Aquaphor hand/body lotion, facial, lip, baby, acne , & Eucerin hand/body lotion or baby care get $10 wyb $20 limit 1




Colgate Optic White, Renewal, Sensitive 3 oz+ or Total 4.8 oz+ toothpaste get $5 wyb 2 limit 2
-$4 off 2 Colgate Toothpastes (2.1 oz or larger; excludes Colgate Cavity Protection, Baking Soda & Peroxide, Sparkling White, Triple Action, Ultra, Kids & bonus packs) Exp 02/04/23 digital coupon






Crest & Oral-B Pro-Health toothpaste, rinse, toothbrush or Glide floss 1 ct get $4 wyb 2 limit 2
crest pro-health reg psa $3.59-$3.79!
-$3 off 2 Adult Crest Toothpaste 3 oz or larger, Crest Mouthwash 473 mL or larger, Oral-B Mouthwash 475 mL or larger, Oral-B Adult Manual Toothbrush, Oral-B Glide Floss, Floss Picks, Interdental Brush, Interdental Picks AND/OR Fixodent Exp 02/04/23 digital coupon
-$1 Crest Toothpaste 2.7 oz or more (excludes Crest Cavity, Regular, Base Baking Soda, Tartar Control/Protection, F&W Pep Gleem, Gum Variants, Brilliance, 3DW Whitening Therapy, 3DW Professional, Aligner Care, Densify, Kids, More Exp 02/25/23 digital coupon









Gillette / GilletteLabs men's razors or cartridges (any) get $10 wyb $20 limit 1
-$5 digital coupon (should be available 01/29)







L'Oreal cosmetics (any) get $5 wyb $15 limit 1
buy 4 l'oreal paris mascara get 1 free (limit 4?) through 12/31

l'oreal hair color, elvive, & ever hair care get $4 wyb 2 limit 1
elvive reg psa $4.99-$5.79

Maybelline cosmetics get $5 wyb 2 limit 1
excludes eyeshadow monos & Baby Lips

Neutrogena acne care, hand & body lotion, body oil, bath gel or Clean & Clear facial care get $4 wyb 2 limit 1

Nivea body wash 16.9-20 oz, Men shave or hand/body lotion get $5 wyb 2 limit 1
-$3 off 2 Nivea Women or Men Body Wash exp 02/25/23 (01/29/23 save)
-$2 Nivea Body Lotion, Creme or Soft Product exp 02/25/23 (01/29/23 save)
-$2 Nivea One Face or After Shave Product or Two Men Shave Products exp 02/25/23 (01/29/23 save)

Revlon cosmetics (any) get $5 wyb $15 limit 6
colorstay eyeliner pencil reg psa $8.29
-$5 Revlon cosmetics crt (cpn# 42002,should be issued to everyone 01/22-01/28)







Dunkin' Donuts coffee 10-12 oz $6.99






not included in weekly ad, advertised on cvs.com
thanks to alli


Beauty

$2 wyb 2 Axe, select Dove or Suave Hair Care products

$3 wyb 2 Urban Hydration Facial products

$2 wyb pHisoderm Facial products

$3 wyb $10 on ella+mila Nail products

$5 wyb $15 on Raw Sugar Hair Care products

$5 wyb 2 Garnier Facial products - excludes wipes and masks

$6 wyb 2 Albolene Facial products

$5 wyb 2 Native Facial products

$3 wyb 2 Carmex products

Household & Grocery

$5 wyb $20 on 6pk Paper Towel, Cottonelle 4 Ultra Clean Mega Roll or Refill 84ct

Personal Care

$15 wyb Oral-B Water Flosser or Gum and Sensitive Care Power Handle

$4 wyb 2 Native Toothpastes

$2 wyb 2 Radius Kids Toothbrushes or Refill Heads

$5 wyb 2 select products (CVS adult care)

$10 wyb Cremo Razor

$10 wyb Schick Hydro Silk Trimmer

$7 wyb Cremo Cartridges

Health Care

$5 wyb $25 on Force Factor Vitamins

$5 wyb $20 om Aspercreme, Icy Hot or Capzasin External products

$5 wyb $20 on CVS Health Pseudoephedrine Cold products

$2 wyb 2 CVS Health Cough Drops

$5 wyb $25 on Somnapure Sleep Aid Gummies 120ct

$25 wyb Omron Blood Pressure Monitor 10, Blood Pressure Monitor 7000 or Body Scale

$20 wyb Omron 7 Arm/Wrist Blood Pressure Monitor

$10 wyb CVS Health S400 Blood Monitor or Pulse Oximeter

$15 wyb Omron BP5 Blood Pressure Monitor

$30 wyb Omron Blood Pressure Monitor and EKG

$5 wyb $25 on select products (Force Factor)

$3 wyb CVS Health Pseudoephedrine products

$5 wyb $25 on Force Factor Supplements

Baby

$4 wyb $10 on the Honest Company Baby products

Miscellaneous

$5 wyb $10 on Poo-Pourri products



sources / credit:
cvs.com | living rich with coupons
did i miss a good cvs deal?
do you have photos of a cvs ad, sale tags, or other info to share?
share in the comments or contact erica here!
all deals subject to change/regional differences
always check your local ad!
sneak peek of the ad for your area can be accessed at cvs.com on thursday before the sale week.
---