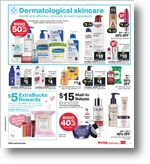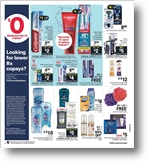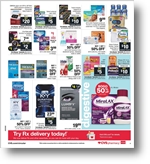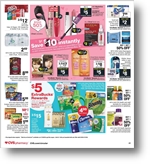 click an image to view full size or view all
download pdf

jump to comments section
= as low as free | = $1 or less





Adidas Fragrance Gift Sets (select) get $5 limit 1
advertised on cvs.com
10% back w/ beauty club

Alli Refills 120 ct get $10 limit 1
advertised on cvs.com

Aveeno & Lubriderm (select) get $8 wyb $30 limit 1
advertised on cvs.com
10% back w/ beauty club
-$2 aveeno body lotion, body wash, or anti-itch product (excludes sizes smaller than 2.5oz, shave and masks)
-$2 AVEENO Body Lotion, Body Wash, or Anti-Itch product (excludes sizes smaller than 2.5oz, shave and masks), exp 03/07/20 digital coupon
-$2 lubriderm product, any variety (13 fl. oz. or larger)
-$2 LUBRIDERM Product, any variety (13 fl. oz. or larger), exp 03/07/20 digital coupon

Axe shower gel get $2 wyb 2/$10 limit 1
advertised on cvs.com
-$1 wyb AXE Body Wash 16/24/32 oz, limit 3. excludes Trial and travel & Twin packs. Expires March 14, 2020 2:59 AM ibotta offer (offers & exp may vary by user)
-$1.50 Axe product, exp 02/09/20 (01/26/20 rmn)

biore facial care get $4 wyb 2 limit 1
10% back w/ beauty club
-$2 biore cleanser ets, exp 02/29/20 (02/09/20 ss)
-$1 biore pore strip product ets, exp 02/29/20 (02/09/20 ss)

Caress 6 pk, & body wash 13.5 oz or 18 oz get $2 wyb 2 limit 1
advertised on cvs.com

clairol natural instincts, nice 'n easy, & root touch-up hair color get $3 wyb 2/$15 limit 1
buy 7 hair color get 1 free (up to $9) 01/01-12/31
10% back w/ beauty club
-$5 off 2 clairol nice'n easy, root touch-up permanent crème or natural instincts (excludes natural instincts crema...
-$5 off 2 Clairol Nice 'n Easy, Root Touch-up Permanent Creme or Natural Instincts Hair Color, exp 02/22/20 (02/09/20 ss)

Colgate Battery Powered Toothbrushes get $2 limit 2
advertised on cvs.com


Creme Shop cosmetics get $5 wyb $15 limit 1
advertised on cvs.com
10% back w/ beauty club




crest & burt's bees oral care (select) $4.99 get $2 limit 2
-$2 Crest Multi-Pack Toothpaste 3 oz or more (excludes Crest Cavity, Baking Soda, & Tartar Control/Protection, Kids, Gum Detoxify and Gum Enamel variants, Whitening Therapy variants, and trial/travel size), exp 02/22/20 digital coupon
-$2 Burts Bees Adult Toothpaste (excludes trial/travel size), exp 02/22/20 digital coupon
-$2 burts bees toothpaste (02/09/20 rmn)
-$3 off 2 Crest Adult Toothpaste 3 oz or more, Crest Mouthwash 473 ml (16 oz) or larger, Oral-B Manual Toothbrush, Oral-B Glide Floss , OR Fixodent Adhesive (excludes 4.6 oz Crest Cavity, Baking Soda, Tartar Control/Protection pastes, Kids variants, Indica..., exp 02/22/20 digital coupon



curel & jergens (select) get $4 wyb 2 limit 1
10% back w/ beauty club
-$4 Curel Hydra Therapy Wet Skin Moisturizer or Dry Skin Therapy Hydra Silk Moisturizer, exp 02/16/20 (01/05/20 ss)
-$2 Curel Moisturizer 13oz or larger, exp 02/16/20 (01/05/20 ss)

CVS Health Cold (select) get $10 wyb $30 (limit ?)
advertised on cvs.com

CVS Health Diabetic Socks get $2 limit 1
advertised on cvs.com

CVS Health Hand & Body or Sun care get $5 wyb $15 limit 1
advertised on cvs.com

CVS S400 Blood Pressure Monitor get $10 limit 1
advertised on cvs.com

Dog & Cat Wet Food get $2 wyb 10 limit 1
advertised on cvs.com

eucerin / aquaphor (select) get $10 wyb $20 limit 1
eucerin Skin Calming Creme 8 oz psa $9.59-$9.99 included?
10% back w/ beauty club
-$3.50 Eucerin Body 8 oz+, Baby or Face Product
-$3 eucerin body product or baby product, ets, exp 2/29/20 (02/02/20 ss)
-$2 eucerin body product excludes trial sizes
-$2 (02/09/20 inserts)

garnier facial care get $5 wyb 2 limit 1
excludes tissue masks
10% back w/ beauty club


Gray Away Hair Color get $3 wyb 2 limit 1
advertised on cvs.com
10% back w/ beauty club
-$2 wyb EVERPRO GRAY AWAY Temporary Root Concealer for any variety, any size. excludes Root Touch Up Powder & Quick Stick Root Touch Up. Expires May 6, 2020 8:24 AM ibotta offer (offers & exp may vary by user)
-$2 wyb EVERPRO GRAY AWAY Quick Stick Root Touch Up for any variety, any size. Expires May 6, 2020 8:24 AM ibotta offer (offers & exp may vary by user)
-$2 wyb EVERPRO GRAY AWAY Root Touch Up Powder for any variety, any size. Expires May 6, 2020 8:24 AM ibotta offer (offers & exp may vary by user)

hershey's bags (select) $2.99 get $1 limit 1

incontinence (select) get $15 wyb $30 limit 1
advertised on cvs.com

Irish Spring & Softsoap (select) bogo 50% off get $4 wyb $10 limit 3
advertised on cvs.com

Irwin Naturals Vitamins 54-90 ct get $5 wyb $20 limit 1
advertised on cvs.com

John Frieda & Marc Anthony hair care get $5 wyb 2 limit 1
advertised on cvs.com
excludes sachets
10% back w/ beauty club
-$1 wyb John Frieda Frizz Ease Styler Products for any variety, 3 oz or larger, limit 5. Offer not valid on trial/travel sizes. Expires February 18, 2020 4:33 AM ibotta offer (offers & exp may vary by user)
-$1 wyb John Frieda Sheer Blonde Lightening Shampoo or Conditioner for any variety, limit 5, select sizes. Offer not valid on trial/travel sizes. Expires February 18, 2020 4:33 AM ibotta offer (offers & exp may vary by user)
-$1 wyb John Frieda Frizz Ease Extra Strength 6 Effects + Serum, 1.69 oz only, limit 5. Offer not valid on trial/travel sizes. Expires February 18, 2020 4:33 AM ibotta offer (offers & exp may vary by user)
-$1 wyb John Frieda Frizz Ease Daily Nourishment Shampoo or Conditioner, 8.45 oz only, limit 5. Offer not valid on trial/travel sizes. Expires February 18, 2020 4:33 AM ibotta offer (offers & exp may vary by user)
-$1 wyb John Frieda Luxurious Volume Forever Full Hairspray, 10 oz can only, limit 5. Offer not valid on trial/travel sizes. Expires February 18, 2020 4:33 AM ibotta offer (offers & exp may vary by user)


l'oreal ever hair care get $4 wyb 2/$15 limit 1
excludes hair masks
10% back w/ beauty club
-$10 wyb $30 maybelline & l'oreal shown on page 6 & page 12 crt (should print for everyone 02/09-02/15)
-$2 l'oreal paris ever shampoo, conditioner or treatment (excludes 3 oz. trial size, sheet masks, value packs and kits)

l'oreal preference & excellence creme hair color $? get $5 wyb $15 limit 1
buy 7 hair color get 1 free (up to $9) 01/01-12/31
10% back w/ beauty club
-$5 off 2 (02/09/20 inserts)


New Chapter Pain products (select) get $20 limit 1
advertised on cvs.com



NYX Cosmetics (select) get $5 wyb $15 limit 1
advertised on cvs.com
10% back w/ beauty club




nyx professional makeup lip color & gloss get $10 wyb 2/$11.98 limit 1
10% back w/ beauty club



Omron BP7 , CVS BPM S600 or S800 Blood Pressure Monitors get $15 limit 1
advertised on cvs.com

OPI & ORLY nail polish or treatments get $4 wyb $10 limit 1
advertised on cvs.com
10% back w/ beauty club

oreo 10.1-15.35 oz or thins bites 6-6.4 oz get $1 wyb 2/$6 limit 1
-$.75 off 2 Nabisco Cookie or Cracker Products 3.5oz or larger, exp 02/22/20 (01/12/20 ss)

pepto bismol get $5 wyb 2 limit 1
4 oz psa $4.69
8 oz psa $6.19-$6.99
-$.50 Pepto Bismol Product, exp 02/22/20 (01/26/20 pg)

Peripera cosmetics get $5 wyb $20 (limit ?)
advertised on cvs.com
10% back w/ beauty club



radiance dietary supplements & radiance platinum vitamins get $10 wyb $15 limit 1
biotin psa $14.49-$14.99
Ashwagandha psa $14.99
-$2 off $5 vitamins, any cvs printable coupon
-$2 off $5 vitamins, any on cvs.com with code

revlon cosmetics get $4 wyb $12 limit 6
tools included
10% back w/ beauty club
-$2 revlon beauty tools between 12:00 AM February 6, 2020 and 11:59 PM February 12, 2020. excludes skin care tools "Cannot use this offer with any other print or in-app coupon or rebate." checkout51 offer (offers may vary by user)
-$3 Revlon Eye or Lip Product, exp 03/07/20 (02/09/20 ss)
-$3 Revlon Face Product, exp 03/07/20 (02/09/20 ss)
-$1 Revlon Eye Tool, exp 03/07/20 (02/09/20 ss)

Rimmel cosmetics get $3 wyb $12 limit 1
advertised on cvs.com
10% back w/ beauty club
-$1 Rimmel Eye, Lip or Face Product, exp 03/28/20 (02/02/20 ss)
-$1 Rimmel Eye Product, exp 03/28/20 (02/02/20 ss)

Scope 1 Liter get $2 limit 2
advertised on cvs.com

scott bath tissue 9-18 rolls & viva paper towels 6 rolls $7.99 get $2 limit 1
-$.75 wyb Viva Multi-Surface Cloth for the big or double roll, 6 pack only. Expires March 22, 2020 6:44 AM ibotta offer (if included, offers & exp may vary by user)

So Cozy hair care get $4 wyb $10 limit 1
advertised on cvs.com
10% back w/ beauty club




spa & wellness, brinker restaurants, dominos, regal, build a bear, lowes, & children's place gift cards get $10 wyb $50 limit 1


special k cereal , nourish or nutri-grain bars , jif , & smucker's $2.99 or 2/$5 get $1 wyb 2 + milk 1 gallon limit 1
regional deal, check your local ad
-$5 wyb $25 of kellogg's cereals 8 oz+, expires 3/31/2020 savingstar offer (join savingstar here)
-$1 Kellogg's Cereal 8.4 oz+ (kellogg's family rewards - 850 points)
-$1 off 3 kellogg's cereals

total home household paper products & household cleaners get $5 wyb $15 limit 1
excludes facial tissue

tresemme premium & dove dermacare hair care (select) $5.49 or 2/$10 get $5 wyb $15 limit 1
suave professionals 2/$6 included
10% back w/ beauty club
-$4 off 2 Tresemme Shampoo or Conditioner products, exp 02/16/20 (02/02/20 rmn)
-$3 off 2 Suave Professionals Shampoo or Conditioner products, exp 02/09/20 (01/26/20 rmn)
-$1.50 Suave Men Hair Care product, exp 02/09/20 (01/26/20 rmn)

TREsemme Pro Pure hair care get $10 wyb $20 limit 1
advertised on cvs.com
10% back w/ beauty club
-$5 off 2 Tresemme Pro Pure products, exp 02/16/20 (02/02/20 rmn)
-$4 off 2 Tresemme Shampoo or Conditioner products, exp 02/16/20 (02/02/20 rmn)

Wunder2 cosmetics get $5 wyb $15 limit 1
advertised on cvs.com
10% back w/ beauty club




$10 off wyb $30 maybelline & l'oreal shown on page 6 & page 12 with crt
should print for everyone 02/09-02/15
view included items on cvs.com

bath poufs bogo
reg psa $2.99

bumble bee solid white tuna in water 5 oz & progresso soup 14-19 oz $1.59 or 3/$4


chips ahoy or newtons 7-13 oz, & saltine crackers 11-16 oz $3.29 or 2/$5
-$.75 off 2 Nabisco Cookie or Cracker Products 3.5oz or larger, exp 02/22/20 (01/12/20 ss)

fiber one & nature valley biscuits, cereal bars 5-6 ct, quaker granola bars 8 ct, select cereal 1314.5 oz, or quick oats 18 oz $1.99
-$1 off 2 Quaker Chewy Granola Bars boxes, exp 02/28/20 digital coupon
-$1 off 2 Quaker Old Fashioned, Quick, or Instant Oats, or Oatmeal Squares cereal, exp 02/23/20 (01/12/20 ss)
-$.50 wyb 2 nature valley granola bars, biscuits, granola cups, layered granola bars, soft-baked filled squares, protein bars, granola snack mix or peanut or almond butter granola bites, expires 2/29/2020 savingstar offer (join savingstar here)
-$.50 off 2 Nature Valley Products, exp 02/29/20 (01/05/20 ss)
-$.50 off 2 Nature Valley Granola Bars, Biscuits, 5 COUNT OR LARGER, exp 02/14/20 digital coupon
-$.50 off 2 Nature Valley Granola Bars, Biscuits, Granola Cups, 5 COUNT OR LARGER, exp 03/14/20 digital coupon
-$.50 off 2 fiber one or protein one snack product
-$.50 off 2 Fiber One or Protein One Snack Product, exp 02/29/20 (01/05/20 ss)
-$.50 off 2 Fiber One OR Protein One snack product, exp 02/14/20 digital coupon
-$.50 off 2 Fiber One OR Protein One snack product, exp 03/14/20 digital coupon

garnier fructis shampoo or conditioner 12-12.5 oz $3.99 or 2/$7
10% back w/ beauty club
-$4 off 2 garnier fructis shampoo, conditioner, treatment or styling products (02/09/20 rmn)

garnier whole blends shampoo or conditioner 12.5 oz $3.99 or 2/$7
10% back w/ beauty club
-$4 off 2 garnier whole blends shampoo, conditioner (02/09/20 rmn)
-$1 garnier whole blends shampoo, conditioner or treatment product (see details for exclusions)

just the basics purified water 16.9 oz 24 pk $2.49

lindt & ghirardelli bars 2.8-4.4 oz $2.89 or 2/$5
-$1 off 2 lindt truffles or bar, ghirardelli squares or bar crt (should print for everyone 02/02-02/08)
-$1 off 2 lindt from inside previously purchased bar

starbucks coffee 12 oz or k-cups 10 ct , maxwell house or yuban coffee 24.5-30.65 oz, & folgers instant decaf 8 oz $5.99
excludes starbucks plus
-$1.45 wyb starbucks k-cup pods (select) 9 ct+, limit 5. ibotta offer (offers & exp may vary by user)
-$.95 wyb starbucks whole bean & ground coffee 12 oz+, limit 5. ibotta offer (offers & exp may vary by user)

---
* all deals subject to change/regional differences *
always check your local ad!
sneak peek of the ad for your area can be accessed at cvs.com on thursday before the sale week.
---
sources:
cvs.com | how to shop for free | wild for cvs | living rich with coupons
---
did i miss a hot cvs deal? do you have photos of a cvs ad or sale tag to share?
contact me here!
---